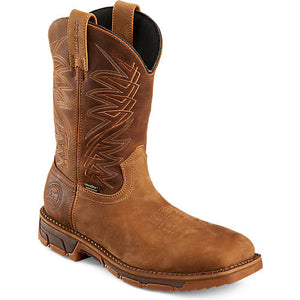 Boots with fit, function, and flair. Marshall boots have been a huge hit with workers who need a comfortable and rugged boot that looks great. We've expanded the Marshall line to include different silhouettes and color accents, while keeping the same technologies that have made these boots some of our best sellers. Choose from a wide variety of styles designed with rugged work in mind.
---
The perfect choice for workers who need a durable, lightweight leather boot that's also waterproof.
The Marshall 83912 features these technologies:
ULTRADRY™ WATERPROOFING SYSTEM
Our UltraDry™ construction combines a moisture management lining with waterproof components for dry, long-lasting comfort and performance.
RPM™ TECHNOLOGY
A breakthrough composite material that significantly reduces the weight of the boot, providing extreme comfort and added endurance. Engineered to provide the durability and strength of traditional materials without the extra weight.
HEAT-RESISTANT OUTSOLE
Soles that have been designed and tested to perform on high heat surfaces. Soles identified as HRO are heat resistant to melting at a minimum of 475º Fahrenheit.
-11" Steel Toe
-Slip and Oil Resistant Sole
- MENS SHOES||MENS SAFETY TOE