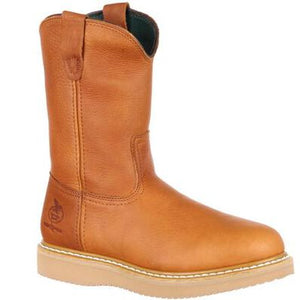 These Georgia Boot® Wedge wellington work boots are highly durable and perfect for the farm and ranch or jobs where you boots are near harsh chemicals. Part of this can be attributed to the SPR™ full-grain leather; which is able to resist caustic chemicals and barnyard acids. Compared to traditional leather, SPR™ leather has 3 times the strength and is able to resist abrasions 2 ½ times better because of the way it has been tanned.
On top of being made with great leather, these men's work boots have Goodyear® welt construction. By building the footwear this way it gives them durability and strength; plus it allows you to have the outsole replaced if it ever becomes worn down.
To help you get these 10-inch wellington boots on easily, there are pull loops on each side of the boot. Inside is a soft lining and a cushion insole, both of help make these comfortable work boots.
A steel shank supports the arch of your foot and enables you to have steady footing throughout the day. These work boost have been made with the Poly Wedge Ultra outsole; it's lightweight, provides great cushioning and flexibility, and resists chemicals and oils.
Pull on these great work boots from Georgia Boot; you'll never want to work in anything else again.