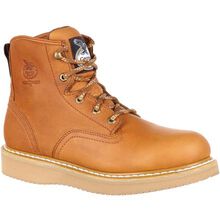 The upper of these barracuda-gold colored wedge work boots is SPR™ leather. Due to the way the leather has been tanned, it has 3 times the strength and it's able to resist abrasions 2 ½ times better than traditional leathers.
This Georgia work boot has been built to comply with the ASTM F2413 I/75 C/75 Protective Toe Classification and the ASTM F2413 Electrical Hazard Standard. If an object were to drop unexpectedly on top of your boots, the steel toe can withstand up to 75 lbs. of impact and compression.
Goodyear® welt construction enhances the durability and strength of this wedge work boot. Also, once the boot's sole has worn down, you can take it to a shoe repairman and have a brand new outsole affixed to the bottom of this footwear.
For steady footing and arch support, inside is a steel shank. A covered, cushion insole provides comfort and absorbs shock.
The Poly Wedge ULTRA outsole is highly flexible; it's made from a cushioning material and resists abrasions, chemicals and oils, which allows it to hold up nicely.
A hard-wearing exterior, superior safety features, great construction and an excellent outsole... you definitely need to own a pair of these Georgia Steel Toe Wedge Work Boots.